DUE TO PERSISTENT PUBLIC DEMAND... OFF LEASH K9 TRAINING IS NOW LAUNCHING ITS ONLINE TRAINING:
Raising The Perfect Dog:
Puppy Training Video Course
The ONLY Course You Need to Raise a Happy, Obedient Dog!
Imagine being able to take your dog for a walk without them pulling on the leash. Or coming home to a house that's not full of chew toys and destroyed shoes. Puppy training is the key to having a well-behaved dog, and it's an investment that will pay off for years to come!
Enroll Now ($199)
Do you have a new puppy? Congratulations!

You are about to embark on one of the most rewarding experiences of your life.
A well-trained puppy is a joy to live with and an asset to any community.
There's no doubt about it, puppies are adorable. But let's be honest - they can also be a handful. From chewing up your favorite shoes to having accidents in the house, puppies require extra attention and care.
If you're thinking about bringing a puppy into your home, it's important to do your research first. Not all breeds are created equal, and each has unique needs and personality traits. It's crucial that you find a breed that will fit well with your lifestyle and personality.
Once you've found the perfect puppy, it's time to start training. This is where things can get tricky - puppies have short attention spans and are easily distracted. But with little patience (and maybe a few treats), you can teach your puppy basic commands and manners.
Our puppy training course will cover everything you need to know about raising the perfect dog. From socialization to potty training, we'll help you get your puppy on the right track. By the end of this course, you'll have all the tools you need to create a lifelong bond with your furry friend.
So let's get started! Enroll in our puppy training course today, and let's start raising the perfect dog together!
Enroll Now ($199)
YOU HAVE A NEW, AMAZING PUPPY BUT:
Your pup seems to chew on everything in sight
Your puppies nipping, barking, or biting people or other dogs
Your pup has potty training problems
Your pup is non-stop digging, soiling the house
Your fur friend has separation anxiety or has a habit of running away
These are all common puppy problems you may wonder how to solve.
In this course, we will go over solutions to each of these problems so that you can have a well-behaved pup in no time.
Enroll Now ($199)
RAISING THE PERFECT DOG
A simple, proven puppy training that will help you get stress-free in less time…
Train a confident, happy puppy

Master basic to advanced puppy training strategies and techniques

Socialize with others with ease

Master potty training

Prevent problem behaviors by creating a positive and fun environment for your pups

Take remarkable, pro-level dog photos ANYWHERE with just your smartphone!
MAKE MY DOG BEHAVE!
WHAT YOU CAN LEARN FOR YOUR PUPS:
This will give your new pup a good foundation for basic obedience! Also, during the training, Nick will teach you how to house train your dog to quit having accidents in the house!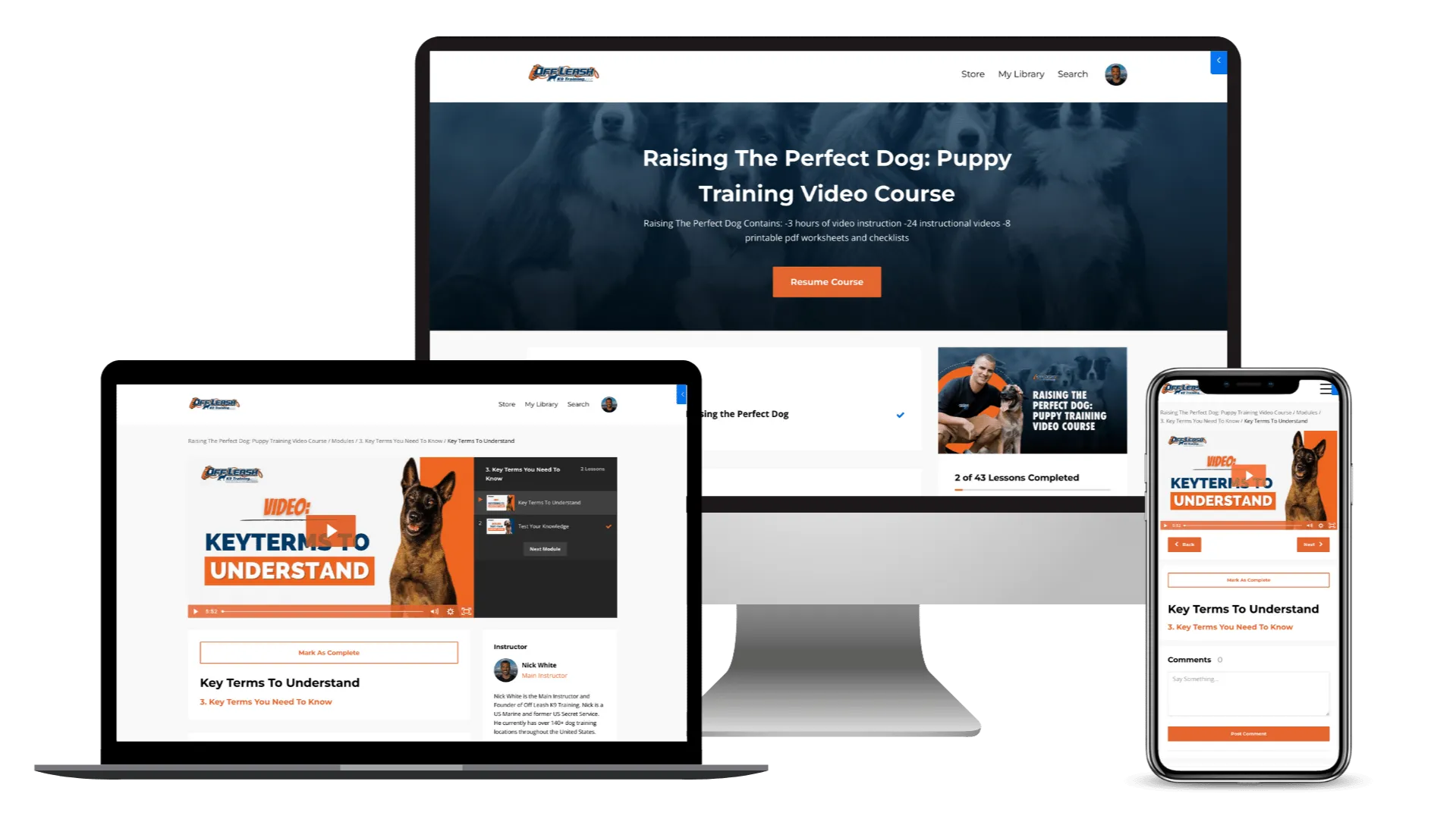 The most effective obedience commands you can use everyday

Potty and crate training you can do at home
Correcting unwanted behaviors of your pup

Avoiding jumping and barking to people and other dogs

Prevent problem behaviors by developing create a positive and fun learning environment for your puppy

and so much more!
YES, LET ME IN!
What's Inside the Course?
1. Raising the Perfect Dog
3. Key Terms You Need to Know
4. Marker and Reward Set Up
8. Touch Point Desensitization
11. The Importance of Environments
12. The Importance of Stimulation
"A person who has never owned a dog has missed a wonderful part of life."
Nick White's passion for training dogs began when he was very young, training the family dog to do tricks, and later fully blossomed in his second career.
As a former US Marine, White saw that they had to rely heavily on specialty-trained bomb-sniffing dogs in Iraq. Still, it wasn't until he was in the Secret Service, working on a security detail with Presidents George W. Bush, Barack Obama, and Vice-President Dick Cheney, that he started training dogs for private clients on the side.
What started as a side gig exploded into a flourishing career that included:
✔️ Training dogs for Top Celebrities & Athletes such as Ryan Reynolds, Logan Paul, VP Cheney, UFC Champion Jon Bones Jones, John Cena, and many more!
✔️ Hosting A&E's hit show "America's Top Dog"
✔️ Starting Off Leash K9 Training
✔️ Expanding to 145 Locations with 500+ Trainers
✔️ Being requested to conduct K9 training seminars for some of the most elite Military Special Forces Units
✔️ Authoring The Book "Raising the Perfect Dog"
✔️ Helping found Warrior Buddies Program, Which Pairs Returning War Vets with a trained dog free of charge
✔️ Holding 2 official world records in off-leash obedience
✔️ And more!
Recently named Top 10 Trainers in the World by bestdogtrainers.org, White continues to run the Off-Leash K9 Training from Destin, Florida.
3 HOURS OF VIDEO INSTRUCTION

24 Instructional Videos
Learn how to train your pup into a happy, confident dog.
---
8 Printable Worksheets

HOW TO ADD AMAZING PHOTO EFFECTS IN YOUR DOG PORTRAITS
PDF Downloadables you can print:
Puppy Essentials Checklist
Crate Training Mastery
5 Potty Training Tips
Potty Breaks by Age: Cheat Sheet
Puppy Potty Tracker
Touch Point Checklist
Socialization Checklist
Daily Desensitization Checklist
New Environments Worksheet
Mental Games for Your Pup
Troubleshooting Common Puppy Problems
---
Quizzes
TO TEST YOUR LEARNINGS
Short Quizzes to check your learnings within the course.
What They're Saying About the Program
"I can't say enough about the quality work these guys do! They will definitely set you and your doggo up for success!"
Jeramy Ramos
"I think we learned as much as our dog and will be better pet parents because of the lessons."
Karen Geraets
"Really good program with incredible results!"
Andrea Cole
Frequently Asked Questions
Do I need experience to take this Puppy Training Course?
Can I complete the course on my mobile device?
How quickly do I get access to the course?
Can I download the video tutorials?